Neil arrived at my house on Wednesday 24th and arrived at around 2pm. We unloaded his car of his tackle, had a chat and a hot coffee and then i took Neil to see some of the sights. We went to Sunderlands football stadium, and then off to the nearest fishing lake near me, Silksworth Lakes. We the went back home. Kath came home from work, we had a bite to eat and spent the night chatting and watching TV, Neil was on the desktop on Face book, LoL
Thursday morning, we were up early. I made some sandwiches for our trip to Stranrear to catch the 14.30 ferry to Belfast. We had 3 or 4 stops for coffee, which also gave Neil a break from driving. We had an uneventful drive. We finally arrived at the port, we parked the car in a secure area and then boarded the ferry. The trip was also uneventful, flat calm with little wind. We had burger and fries, bloody horrible, YUK, but we paid for them and they jolly well got eaten,. LoL
We arrived at Belfast port to be greeted by the big man Colin, handshakes and greeting done we left for the tackle shop. We got our permits and then we went on to see Michael.
Michael had kindly loaned me a Korum fishing chair, keep nets and landing nets, Neil and i traveled very light. Michael gave us a welcomed hot drink. We chatted for a while and then we left for Colin's. Alison ( Colin's wife ) was there to greet us. As was Nicky, Colin's daughter. We chatted and had a nice meal. Colin, Neil and i had a few beers ten it was soon bedtime. Neil and i shared the room with Colin's pet TARANTULA spider. !!!!! the thing was in its cosy little home at the base of my bed, right beside my feet. SCARY thinking that it was there.LoL
Day 1 BLACKWATER At BONDS BRIDGE
Up bright and breezy for our first fishing session.
We packed the car with our tackle and set off to meet with Michael at McDonald's, the lads had a mac muffin breakfast, i stumped for coffee.
We got to our fishing spot. a lovely looking stretch. I fished the feeder, as did Colin, Neil alternated between feeder and pole, i think Michael stuck with the pole for most of the day.
Michael on his peg




Neil having a chat while Colin stuck to the fishing in the back ground


The fishing was very slow, no tow on the river at all. But we all stuck to the task. Not many fish were caught today, but with the great company and the hilarious quips and one liners from Michael sure did make up for it. We called it a day and returned to Colin's.
DAY 2 Saturday LOUGH NEAGH
Michael did not fish with us today. We got to the Lough and chose our pegs and got down to business. Yet again the fishing was slow, but we did catch fish. I again fished the feeder, as did Colin and Neil. We had a short session today. From 11am until 3pm. In all about 4 or 5 fish were caught. But thats fishing for you.
The scenery was stunning, that again made up for the lack of fish.
My peg




Neils peg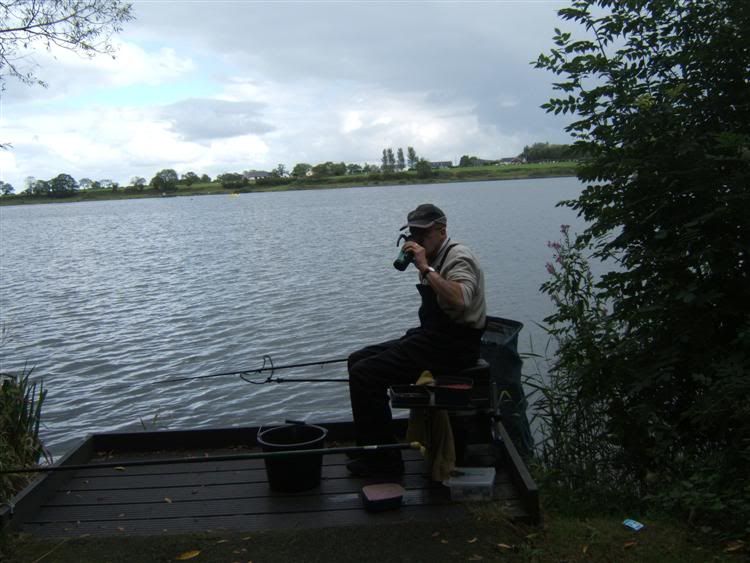 And Colin on his peg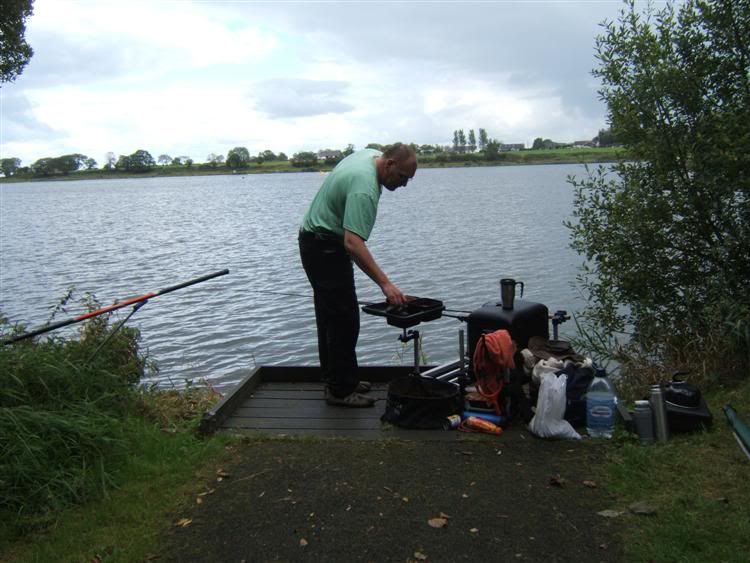 A fish for Colin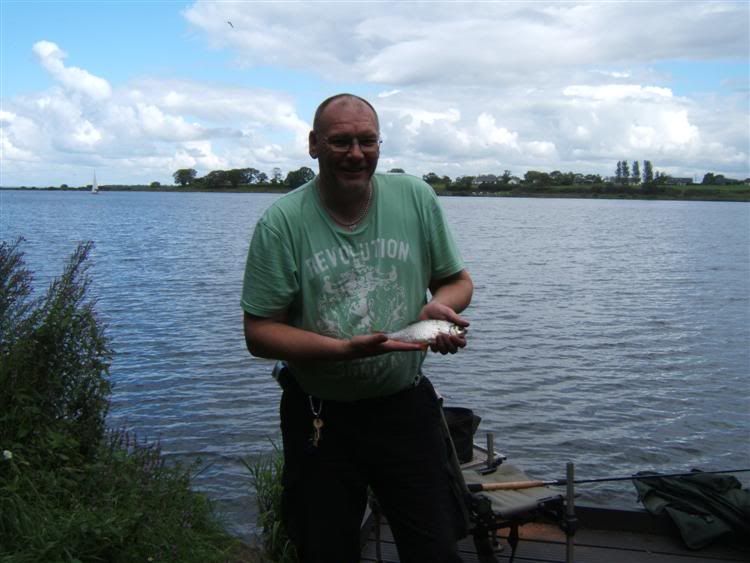 And a fish for me.


DAY 3 Sunday LOUGHGALL
We had had reports tat the lake was fishing well, so with great anticipation we set off. We met up with Michael today again. We chose pegs 74, 75 , 76 and 77.
Again i fished the feeder, but yet again the fishing was very slow. I had around 20 roach, as did Neil, Colin had 15 and one eel. Michael was the star of the day. He had by for the most fish.
Yet again Michael made our day with his one liners and fun personality. I turned around when i heard him mumbled something !! this is the sight that greeted me.
That was the start of the side splitting laughter. We all had a go of Michaels new " LUCKY HAT "
Colin's turn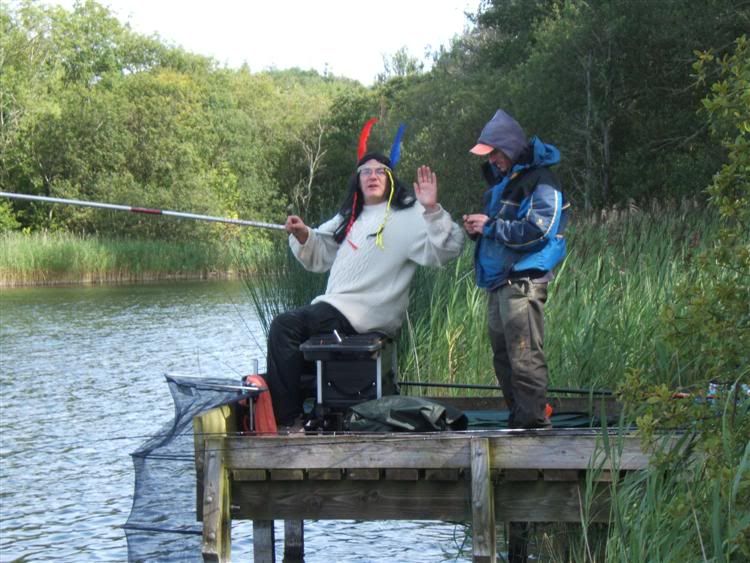 Neils turn




And last of all my turn


We packed up our tackle at around 3pm and headed for Colin's.
DAY4 NEWFERRY
Back to one of my favorite places. I had fished this stretch on previous visits, i was looking forward to todays visit.
We again met with Michael and then off to Newferry.
I had the feeder out again, ad did Colin, Neil had decided to fish the pole, and Michael fished the whip. Again Michael had the better day, he was catching from the off. Fish to around a pound in weight cane to his hook bait. We all continued to catch steadily, but the wind got worse and the rain started. We had bacon and sausage sandwiches fried on the bank side again today, very nice, mmm.
My peg




Colin's peg




Neil on his peg, under the umbrella




And the man himself Michael




This is Michaels bag of fish



And here he is in his glory


.
We decided to call it a day when the rain started to get heavier.
We popped into Toome on the way back to meet with two other angler friends of Michael.s
A few pictures we took there. From L/R
Neil, Michael and me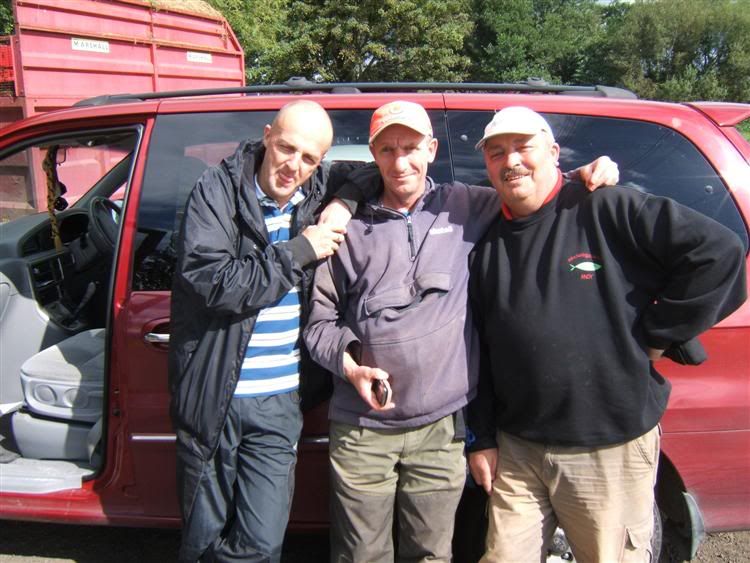 L/R Neil, Colin and me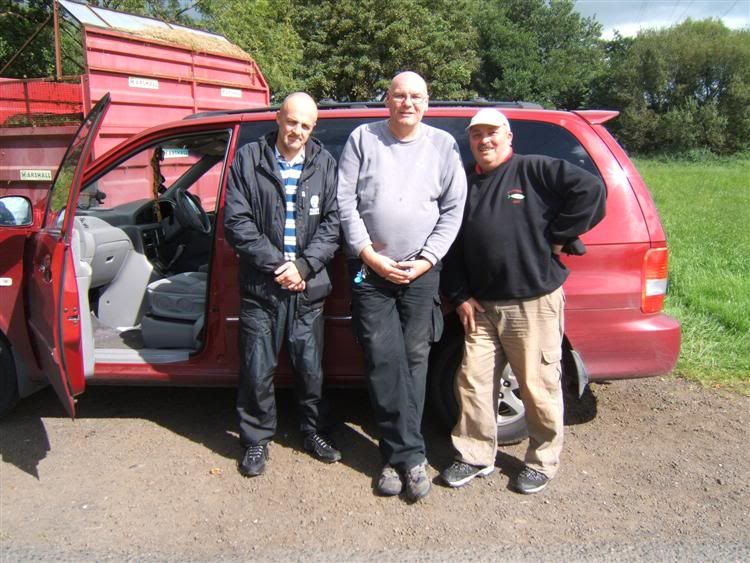 We arrived back at Colin's home and had another very tastey meal made by Alison,
Neil and myself packed our backs for the following days trip home.
Oh before i forget here's Colin's pet Tarantula spider, which escaped on the last day we stayed at Colin's, Alison managed to rescue it and put it back in its house, just as well because i would have stayed the night in the car, LoL LoL LoL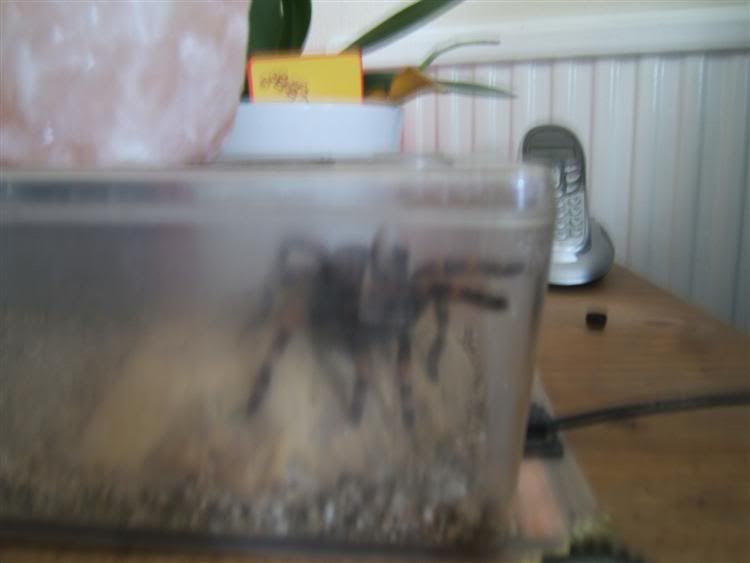 All i can say now is a very special thanks to Alison for putting up with tw smelly fishermen, and for providing us with very tastey food, for making us feel very welcome in her home. Another thanks goes to Mark and Nicky. son and daughter or our hosts, for also making us feel welcome.
And last but not least Michael AKA Meeky for the fun and laughter he provided.
I enjoyed my trip and the excellent company i had. The fishing came second on this trip, being with like minded and extremely friendly people who i can call good friends made up for it.
Bye bye for now,
And not forgetting Neil. Thanks mate for taking me overt, your a gem.
The power of the ferry.
And to Meeky for the helping hand. thanks lads
We had a little bit of excitement on the ferry coming home. A fella was acting very strangely, walking and pacing about in a suspicious manner, he at unattended, which is not permitted. The security were soon onto him and kept a close eye.
When we disembarked he got his other luggage before being stopped gy Customs and security officers.Was he a nervous passenger or something more sinister, we done know, and we were not about to hang about to find out Neil and i made a hastey retreat to the car.
Thanks for reading